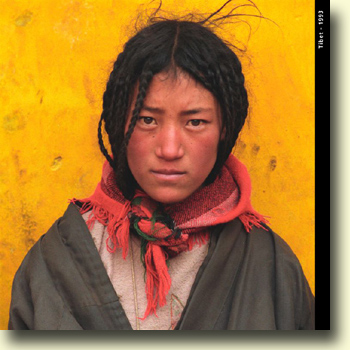 Tibet–1993

During the winter of 1993 I visited Tibet. At that time of year very few Westerners were to be found in that part of the world due to the inhospitable conditions created by the high altitude and severely cold temperatures. I was not surprised not to see another foreign traveler during my one week stay in the country.
The photograph of this young girl was taken at the entrance to a monastery near the capital city of Lhasa. It was the time of year that Tibetan Nomads, dressed in traditional clothing made of yak skins, make pilgrimages of great distances to monasteries.
I had just finished my visit at the monastery when I noticed a very colourful, textured yellow wall near the entrance. I knew it would make a beautiful backdrop, so I decided to wait for a subject to photograph. I explained this intention to my Tibetan guide who interpreted my request to a family of Nomads who were passing by. While they were very cooperative, it was easy to see they were also very curious as to why a foreigner like myself would be taking such an interest in them. My camera was a source of intrigue as well!
They were a large group – ten in total - made up of adults and young children. I chose to photograph them both as a group and individually. As I took this particular girl's portrait, she simply stood and looked directly into my camera.