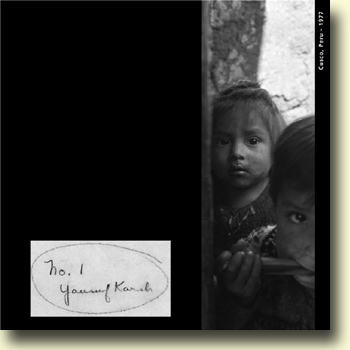 Peru–1977

This photograph was taken the year I graduated from high school and began to take my photography seriously.
For my graduation my parents bought me a Nikon Nikormet FT3 camera – a gift that was put to great use the winter of that year when my family toured South America. Opportunity met budding passion, resulting in what has been a life-long love of travel photography.
This image was captured during a train trip from Cusco to Machu Picchu. We had made a brief stop at a train station where I got out to stretch, and happened to notice two children playing in a nearby courtyard. I photographed the boy first, as he peeked out from behind a wooden door; and then, while I was still in position, a tiny, little girl peered out from behind the young boy. I took the photo, capturing her wondrous eyes looking right into the camera.
At the time this photograph was taken I was enrolled at the University of Manitoba, and was working as a photographer for the student newspaper. It was there that I learned how to process film, as well as how to print black and white photographs. I was lucky enough to find a mentor in one of the other photographers working at the paper, and I would often take the opportunity to discuss my work with him.
It was his advice on cropping that greatly influenced how this particular photograph finally turned out. He suggested that I make the entire image long and narrow by cropping off half off the boy's face. The result was to focus all attention on the little girl's eyes. This remains a favourite of all my work.
The journey that photography took me on continued later that year during the University of Manitoba's Festival of Life and Learning. I entered the photo in a competition where the top ten works, having been selected by a panel of local judges, were sent on to Ottawa to be judged by the famous Canadian photographer, Yousef Karsh. I was fortunate to have my piece recognized by Mr. Karsh as the top photo in the competition. As a memento of the recognition he signed the back of the photograph, "Yousef Karsh Number One". It has become one of my most treasured possessions – a reminder of what can accomplished when opportunity and passion are augmented by encouragement.