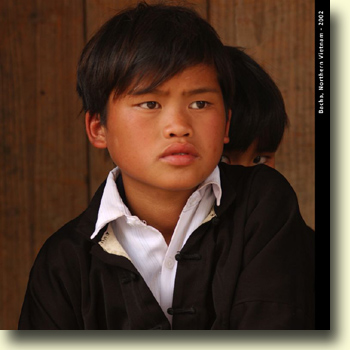 North Vietnam–2002

This picture was taken in the village of Bacha in the mountainous region of North Vietnam. Bacha is well known for its popular market at which the various hilltribes come to buy and sell goods. I was leaving the market when I spotted two boys dressed in proper black and white, with their father standing protectively next to them.
I soon saw the two brothers were quite different from one another. The younger boy was very shy, and moved immediately to hide behind his brother. It took several shots before they both became more comfortable with me – and curiosity eventually got the better of the shy one!
Whenever I'm traveling to remote areas I try to bring something from Canada along with me. In this instance I had some of my prints of polar bears, and I gave these to the boys in return for them having been such fine subjects. They were very pleased with their souvenirs and proudly held them up for the camera.